You know the feeling: you grab something quick for lunch – on the go or at your desk – and by mid-afternoon, you're dragging. You need a pick-me-up, but all you have are snacks that will give you a quick fix followed by an inevitable crash.
Table of Contents
Frequent blood sugar fluctuations and feelings of fatigue can be frustrating and make it hard to stay on top of your work week. The good news is, with a bit of meal prep, you can easily fuel your body with high protein meals that will give you the energy you need to power through your day.
The truth is that meal prepping for the week can feel like a daunting task. But it really doesn't have to be. In this article, I'll share a week's worth of high protein meal prep ideas that are low in effort but high in flavour. All you need are 2 base recipes that can be easily customized to create a variety of different lunches.
Why might you want to spotlight high protein lunch meal prep? Did you know that protein is vital for repairing and building muscle, keeping you fuller for longer, and helping to regulate metabolism? Not only is protein an important nutrient for type 2 diabetes management and blood sugar control, but as a registered dietitian and certified diabetes educator, I also attest to its importance in creating balanced meals.
The following easy meal prep meals are perfect for busy folks who don't have much time to cook during the week. So, whether you're looking for something simple and healthy or need some inspiration to get out of a cooking rut, read on for some delicious high protein meal prep ideas — with a complete 5-day workweek meal plan.
Benefits of meal prepping
Why meal prep? Well, because it's one of the best ways to ensure you have healthy, nutritious meals all week long. By preparing your meals in advance, you can bypass the temptation to hit a fast food restaurant or rely on ultra-processed foods.
Not only does meal prepping save you time and money, but it also allows you to have more control over the quality and quantity of the food you're eating. Other benefits of meal prepping include:
Building momentum for a healthy eating pattern
Eliminating the guesswork of what to make for meals
Reducing decision fatigue around food choices
Decreasing stress around mealtimes
Simplifying your grocery visits
Reducing food waste and being more environmentally sustainable
10 best meal prep tips
Before we dive into high-protein meal-prep ideas, let's quickly go over some general tips for meal-prepping success. Here are a few things to keep in mind:
Choose recipes that can be easily doubled or tripled
Opt for recipes with similar cooking times to minimize kitchen time
Include a variety of food groups and textures in your meals
Use similar ingredients in multiple recipes to simplify your grocery list and save money
Label and date your food, so you know what to eat and when
Include your cultural foods and flavours to make lunch meal prep more enjoyable
Pack your meals in reusable containers to save money and reduce waste
Enjoy seasonal ingredients to make the most of flavour and nutrition
Get the family involved in meal prep to make it more fun and efficient
Picking one day out of the week — typically the weekend — to do all your cooking.
If you're short on time, you can take a few shortcuts when meal prepping. For example, you can buy pre-cut veggies or cook larger batches of food to enjoy throughout the week. As well, relying on store-bought staples like jarred pasta sauce, hummus, pesto, canned beans, and lentils can help make lunch prep a breeze.
Remember that meal prep doesn't have to be complicated or time-consuming to be effective. Simply taking an hour or two on the weekend to cook a few recipes can make all the difference in your week.
Now that we've gone over some general tips, let's move on to the two easy meal prep recipes for our 5-day workweek meal plan.
Recipe 1: Lemon Pepper Salmon
This high-protein recipe is simple and delectable. Simply season your salmon fillets with lemon pepper seasoning, then bake them in the oven until they're cooked. While the salmon is baking, boil a batch of pasta, quinoa and frozen peas to serve alongside your two main dishes. As well, get cracking on recipe two. We're making the most of our time in the kitchen!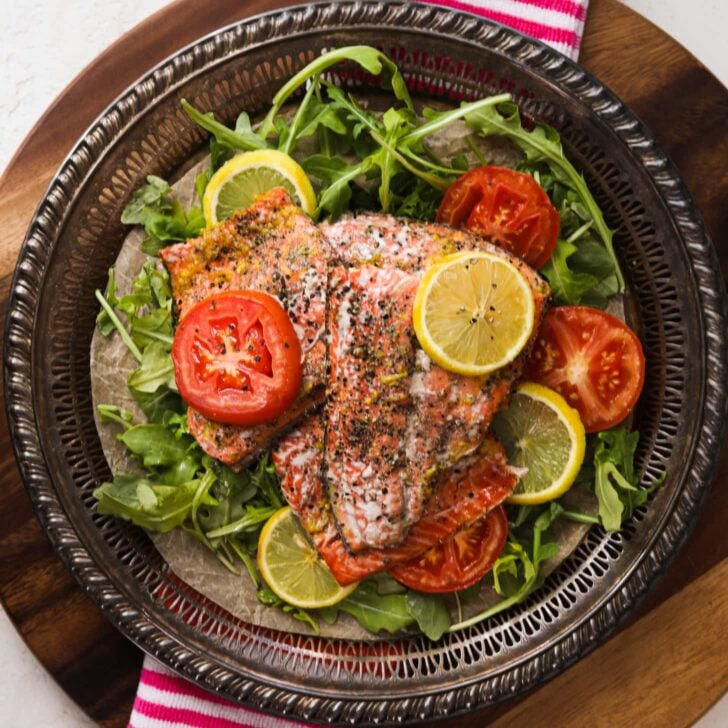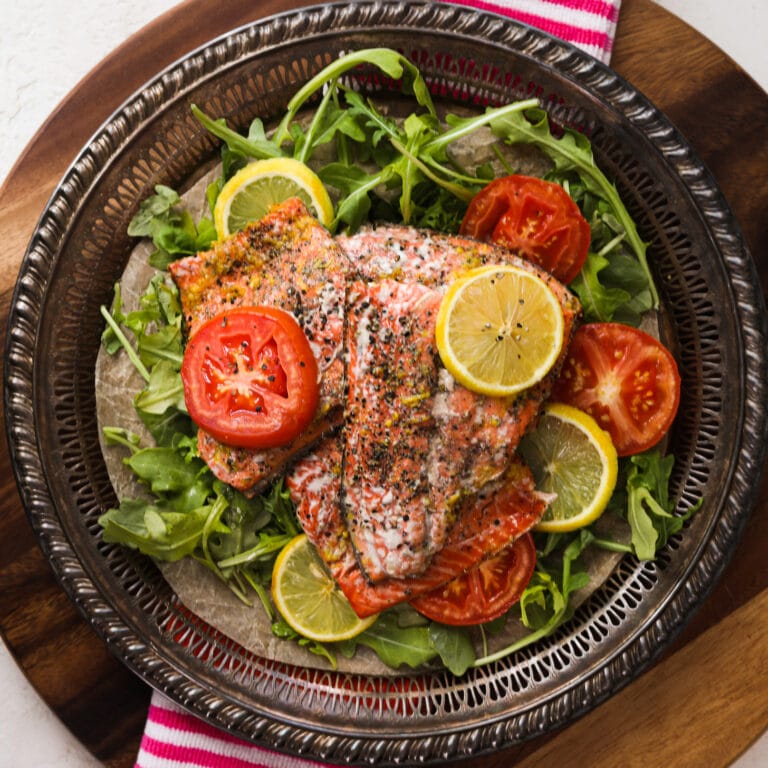 Easy Lemon Pepper Salmon
In just 20 minutes, you can have this succulent lemon pepper salmon on your dinner table. The zesty flavour of lemon pairs perfectly with the pungent bite of pepper, creating a delightful dish sure to please your taste buds. And best of all, this recipe pairs wonderfully with a variety of sides to create balanced nutritious meals. High protein, diabetes diet friendly, and heart healthy.
Check out this recipe
Recipe 2: Chicken Patties
This is a family-favourite recipe that can easily be made in larger batches. Simply form the chicken mixture into patties, then fry them in a pan until they're golden brown and cooked through. These chicken patties are delicious on their own or served with your favourite sides.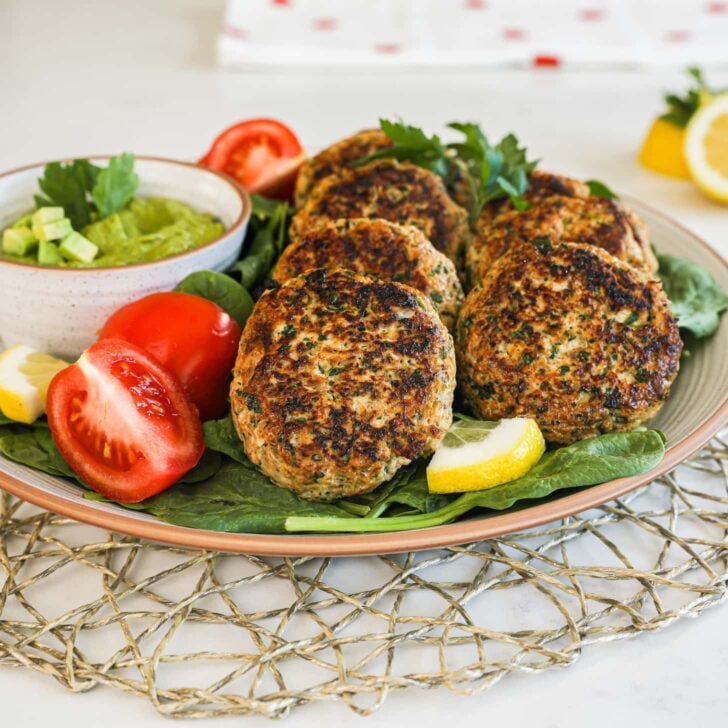 30-Minute Chicken Patties (Juicy & Moist!)
Looking for a delicious, healthy and easy-to-make chicken recipe? Look no further! Today, I share my favourite recipe for juicy and moist chicken patties, which only takes 30 minutes to pull off. It's ideal for hectic weeknights, has a simple ingredients list and is ideal as a healthy dinner option. This high protein recipe is also diabetes friendly and heart healthy.
Check out this recipe
Meal prep ideas for the workweek (5-day meal plan)
Now that we've gone over some tips for general meal prep success, let's move on to high protein meal prep ideas.
1. Monday lunch
Chicken burger (Ingredients):
1 Burger bun
1-2 tbsp pesto
1-2 chicken patties
1 lettuce leaf
1/4 cup grated carrot
Chicken burger (Instructions):
Slice the bun in half and spread pesto on each side of the bun.
Place 1-2 chicken patties (depending on your appetite) on one half of the bun.
Top with lettuce, grated carrot, and the other half of the bun. Add your favourite condiments, if desired.
Serve with grapes and cheese on the side, along with water.
1 cup grapes
4 cubes of cheese
Water
2. Tuesday lunch
Salmon fillet served with pasta (Ingredients):
1 cup cooked pasta
1/2 cup tomato sauce
1 lemon pepper salmon fillet
2 cups leafy greens
1 cup of cucumber slices
dressing
Salmon fillet served with pasta (Instructions):
Cook 2 cups of pasta according to package instructions. Drain, use 1 cup for Monday, and store the rest in the refrigerator.
Add tomato sauce to one cup of pasta.
Serve salmon fillet on top of pasta alongside a salad of leafy greens, cucumber slices, and dressing.
Enjoy berries on the side with water.
Immune-Supporting Meal Plan
Delicious dietitian-approved, anti-oxidant-packed recipes to help you stay healthy
Nutrient-dense, immune-boosting ingredients
Done-for-you meal plan complete with a grocery list
Meal prep guide to make the most of your time in the kitchen & save money!
3. Wednesday lunch
Chicken wrap (Ingredients):
1 extra large tortilla or 2 small tortillas
1-2 chicken patties (depending on your appetite)
1 tbsp hummus (store-bought)
1-2 lettuce leaves
1/4 bell pepper, cut into strips
Chicken wrap (Instructions):
Lay out the tortilla/s and spread hummus evenly.
Cut 1-2 chicken patties and add them to the tortilla.
Top with lettuce and bell pepper slices. You could add your favourite condiment/s if desired.
Roll up the wrap tightly and cut it in half.
Serve with banana, trail mix and water.
1 banana
1/2 cup trail mix
4. Thursday lunch
Salmon with quinoa & peas (Ingredients):
1 cup cooked quinoa
1/2 cup boiled peas
1 lemon pepper salmon fillet
Salmon with quinoa & peas (Instructions):
Cook quinoa according to package instructions, then drain and set it aside.
Cook the peas until they are soft, then mix them in with the quinoa.
Serve salmon fillet on top of quinoa and peas.
Enjoy berries and carrot sticks on the side with water.
1 cup berries
1 cup carrot sticks
Water
5. Friday lunch
Cold pasta salad (Ingredients):
2/3 cup cooked pasta (use leftovers from Tuesday)
2 chicken patties
1 cup salad greens
1/2 bell pepper, diced
1/2 cup cucumber, cut into chunks
Dressing (use store-bought or homemade)
Cold pasta salad (Instructions):
Mix pasta with 2 chicken patties that have been cut into small pieces.
Add diced bell pepper and cucumber chunks.
When you're ready to serve, add salad greens and dressing, and toss to combine.
Enjoy with berries and water on the side.
Packing fresh fruits, a salad, condiments and water each day – ahead of time – will help to lessen your morning worries. If you decide to meal prep your lunches for the week, consider using reusable containers to be more environmentally friendly.
Before you begin cooking, declutter your fridge, so you have enough space to store your food. And last but not least – don't forget to have fun!
Grocery List
Recipe 1: Lemon Pepper Salmon
Wild Sockeye pink salmon, 4 large fresh fillets ~490 grams
Lemons, 2
Olive oil
Salt
Pepper
Tomato
Recipe 2: Chicken patties
Chicken breast fillets, 600 g
Cilantro bunch 
Onion, 1
Garlic cloves, 5
Ginger, 1 inch 
Smoked paprika 
Oregano
Green chillies, 3
Ingredients to create balanced lunches
Pasta
Quinoa
Ready-made pesto
Lettuce
Burger buns
Carrots, 2
Grapes 
Cheese cubes
Store-bought ready-made pasta sauce 
Salad green spring mix (for 2 servings)
Store-bought salad dressing 
Cucumber, 1
Berries (enough for 3 servings)
Tortillas
Store-bought hummus
Peppers, 2
Banana 
Trail mix
Frozen peas 
Do you have any favourite high-protein meal prep recipes?
Desi~liciously Yours, Shahzadi